It has been a season of good news here at Chromia. New optimism and strength in crypto markets, great exchange listings and partnerships, and more opportunities to grow our ecosystem. In order to capitalize on these opportunities, we have decided (after consultation with advisers and investors) that it is in the best interests of the platform to slightly accelerate our token release schedule. Increasing the amount of tokens available in our promotion and ecosystem funds now allows us to make impactful and well-timed investments in the future of the platform.
We endeavour always to be transparent and consistent, but there is a great deal of complexity and uncertainty to account for in a token market. We described a decelerated plan in February, when times were wintry and cold. We also explained how we consider flexibility and the ability to adapt to changing conditions to be important and beneficial. Now that the sun is shining it seems clear to us and to our community that we should be agile and take advantage of it.
In particular, we are seeing a lot of interest in building projects on Chromia and we'd like to be able to encourage development of such projects like other platforms do. We also aim to partner with startup accelerators to bring even more projects to Chromia ecosystem.
Besides that, as mentioned before, we plan to increase provider compensation to stay competitive in the staking market.
Other things which require increased budget:
Exchange listings
Promotion programs. In July we sponsored trading competitions on Binance and Bithumb with total pool of 6.7M CHR
Development of high-quality libraries for Chromia to increase its potential in fields such as gaming, non-fungible tokens, DeFi
What is changing?
Previously the promotional and ecosystem funds unlocked at a rate of 1.5M and and 4.5M CHR per month. We will increase this rate, effective July 2020, to 5M and 8M per month respectively. From August onwards, the release will decelerate by 200K/month until both funds bottom out at 3M/month. That means that in August we will have access to 4.8M promotional tokens and 7.8M ecosystem tokens, in September 4.6M and 7.6M, and so on.
Under this schedule ecosystem fund will last until June 2024 and promotion fund will last until 2025. This balances the need to accelerate ecosystem growth in a highly competitive environment with the need of long-term development and maintenance.
Note that the total supply and allocation of tokens between pools remains unchanged and is still fully consistent with the white paper.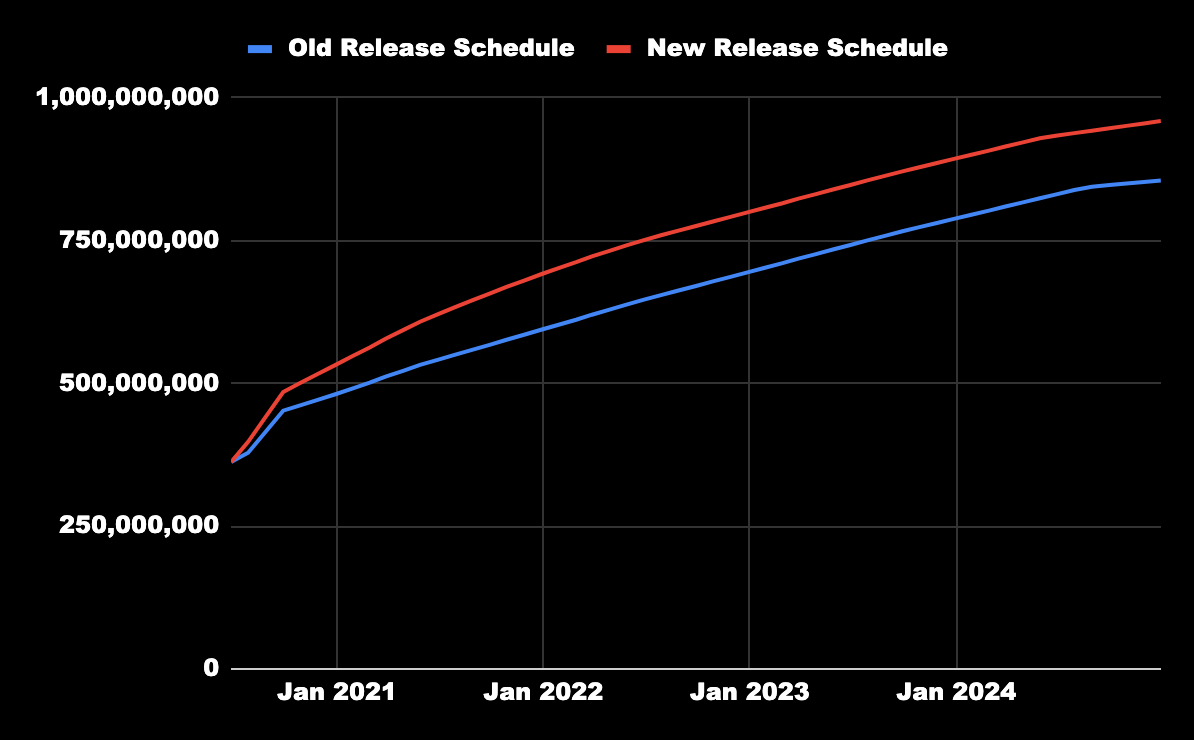 Future exchange listings
In addition to the changes in release schedule, we will also unlock a one-off sum of 12M CHR to secure important and strategic exchange listings. We believe that making this investment at this time will deliver great value by increasing the breadth and robustness of the market for CHR.
If you have any questions about this update please don't hesitate to get in touch through one of our community channels. Expect further updates in the near future about just how we will use this additional maneuvring space to grow and nurture the Chromia ecosystem.