On the opening night of Web Summit in Lisbon (November 4-7, 2019), I happened to sit next to a veteran of the conference (I being a Summit virgin) from Dublin and asked him if he could offer any advice for getting the most out of the week. With Edward Snowden beamed in from Moscow speaking on the massive stage screen, the veteran responded, "Don't drink too much the first night."  It was sage advice, but I actually learned much more at Web Summit than being reminded of the benefits of moderation.
One of the many advantages of the world's largest technology conference is that it's a sort of technology Olympics. Annually the whole technology world comes together in Lisbon to sell, teach, learn, raise money (and yes, have a few drinks at Night Summit) and celebrate technology and the companies associated with the Web. Most tech conferences are focused on a primary technology be it AI, databases, mobile application development, networking, or a single platform like Salesforce with its well-attended Dreamforce conference (there's even a conference around Zoom called Zoomtopia. So, a conference on conferencing!).  The intriguing thing about Web Summit is that it crams the technology world, approximately 70,000 attendees, into a convention center for three days and says "figure it out."
Web Summit is a living testament to what is popularly known as Web 2.0, or the second generation of the world wide web, the shift from mere static HTML pages to a more interactive and dynamic web experience. Web 2.0 is focused on the ability for people to collaborate and share information online via applications, social media, blogging and Web-based communities.
Web 2.0 companies populate the halls of Web Summit, with the largest real estate claimed by behemoths like AWS, Microsoft, and Google.  These companies have come to dominate the 2.0 ecosystem. Their fiefdoms can be seen distributed across five pavilions with product companies that have adopted to the digital revolution (think Porsche with on-board computers or Tommy Hilfiger where consumers can design their own clothes on a web-based app) together with established companies and start-ups that aggregate consumers and data across financial services, healthcare, travel, games, and media.

Scattered throughout halls are consulting and marketing firms peddling digital religion and research, strategy, security, customer targeting and other services to the minions. Finally, interspersed throughout are country representatives from the likes of Denmark, Portugal, Spain, and France (and harder sells like Saudi Arabia, Qatar, and Russia) looking to attract the assembled digiterati to their particular version of a web business paradise.
Blockchain companies like ChromaWay are still a small, but certainly fast growing, presence at Web Summit and – by extension – the industry as a whole.  One of the challenges for the industry is that blockchain projects don't fit neatly into the current internet landscape. This is entirely logical as blockchain represents an entirely new ecosystem where, for example, the primary business model isn't the harvesting and selling of user data.  New business models (and the supporting infrastructure) where users have sovereignty over their data is still emerging, but this change (and others around trust, direct exchange of value,  and interoperability of systems) will certainly have a dramatic impact on the way the industry will look for decades to come. This change, referred to as Web 3.0 (coined by John Markoff back in 2006), imagines transforming the Web from a "network of separately siloed applications and content repositories to a more seamless and interoperable whole."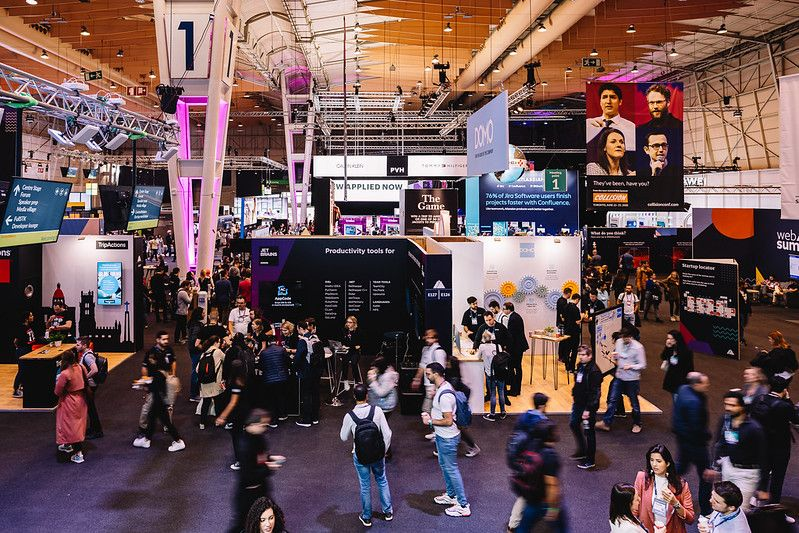 In the current paradigm, Web Summit is organized in a very vertical way by industry or region (there was a whole area set aside for companies from Sardinia - who knew?).  ChromaWay was categorized as a Fintech, which is pretty much like saying Oracle is a financial services company because they have databases running at JP Morgan.  This is not to say that there aren't industry-focused blockchain companies. In fact, we focus on games, registries, and real estate (all using the same underlying blockchain infrastructure). Our booth neighbors developed a blockchain-based insurance solution. And there were others in games, supply chain, provenance, and real estate. Many of whom, by the way, expressed a keen interest in building on the Chromia platform (see the picture of the Chromia team at the Portugal Blockchain Alliance Meet-Up).
But looking at the details of what we blockchain interlopers are working on misses the point somehow. The small size of the blockchain contingent at Web Summit belies the significance of the challenge which its very presence represents to those Web 2.0 incumbents. How will this radically decentralizing, privacy empowering technology shape our online world in the years to come? The question is on its way to being answered, and surely we will see the substance of that answer reflected in these Web Summit pavilions in years to come.