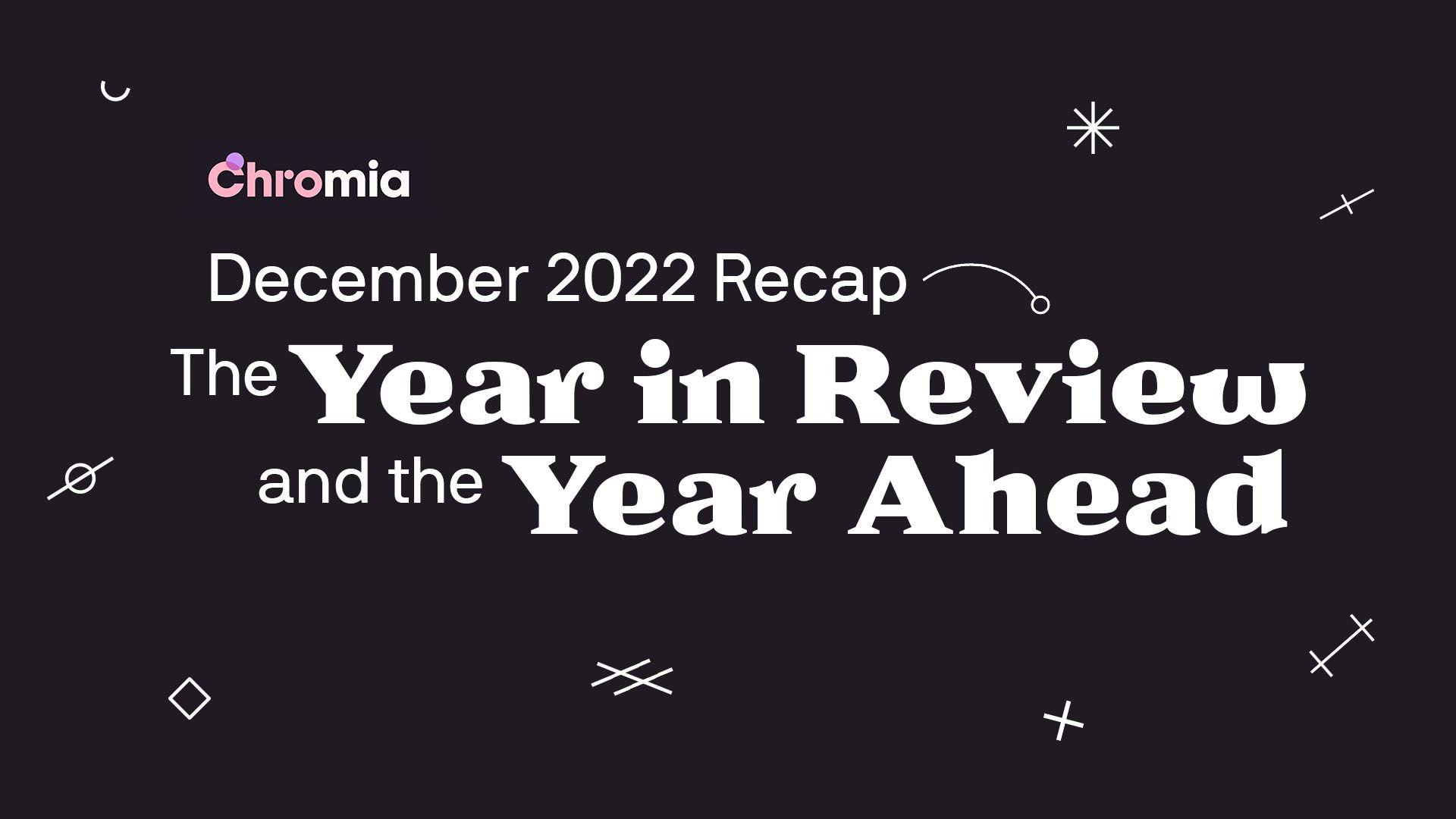 December 2022 Recap - The Year in Review, and the Year Ahead

Chromians,

Surprise, the December update is being released early this month! This allows the team and community to wrap up 2022, then kick back and enjoy the holidays.

This month's update will be taking a look back at the year that was, while giving a glimpse into some of the exciting changes coming in the New Year.
Changes are Coming to the Monthly Updates
Over the past year, our development team has completed preliminary coding on several important mainnet components. A handful of other components are still under construction or revision, such as the FT4 token standard and the hardened EVM bridge (H-Bridge).

In 2022, providing percentages and status updates for each task was an appropriate method for communicating progress. However, we are now reaching a point where it makes more sense to focus on the bigger picture of how all of these pieces will come together.  

Starting in January, we will be changing up the format of our monthly updates. This new format will provide a 'birds-eye view' of development, network growth, our ecosystem, and marketing events.  

In addition, we will also begin producing a separate monthly update written specifically for developers. These 'development experience' updates will highlight the improvements being made in tooling and documentation that will make the Chromia Ecosystem more attractive and efficient for dApp designers.
Chromia Ecosystem Rundown
My Neighbor Alice held 2 Alpha Season releases this year (one in September and one in December), and they continue to expand the world of Lummelunda.

Mines of Dalarnia launched in April and have been pushing continuous improvements and updates ever since. Their game currently utilizes Binance Smart Chain, and we look forward to exploring the possibilities to support and enhance their product via Layer-1 and/or Layer-2 implementations in the future.

Announced earlier this year, Battle Derby from Triple O Games is currently under development. In 2023, Battle Derby will be actively building on our Mark 2 Testnet.

Chain of Alliance completed a seed funding round early in 2022 and are currently developing their game using Postchain + Rell. The team plans to deploy on Chromia's Mark 2 Testnet as soon as possible. CoA lead developers Simon Sorgenfrei and Dennis Kirsch have been involved with Chromia for several years, and we know they will maximize the potential of our platform!

Corite is a blockchain-based music crowdfunding platform. The project launched in 2022, and is currently using Binance Smart Chain for their native token and NFTs. We plan to work together to explore Layer-2 enhancements for the platform in the coming year.

Our 2022 Incubation Program provided grants to several projects. We have recently opened the 2023 Incubation Program and we are already screening applicants.

This year also saw projects planning to build Chromia dApps spring up 'in the wild'. As we continue actively marketing to developers, we hope to see this list continue to grow.  

While we can't give specifics at this time, we can also say that we are aware of multiple projects in the planning stages that will be announced in 2023!
2022 Highlights
The following list is only a small selection of announcements from the past year. Be sure to follow our social media channels to get all the news.
January
The CHR token was integrated as both a Borrowable and Collateral asset on Binance Loans

ChromaWay's RBN advanced to Phase 2A of the European Blockchain Pre-Commercial Procurement

True Global Ventures invests $5M USD into ChromaWay, as part of $10M funding round
February
ChromaWay establishes a blockchain development course at Regent University in Ghana
March
Chain of Alliance launched their first public testnet
April
The Chromia Stories Podcast published its first episode. The podcast is currently up to 8 episodes and counting!

Mines of Dalarnia launches mainnet version on Binance Smart Chain

ChromaWay's CSO Zara Zamani appeared at Paris NFT Day, discussing the myriad of possibilities for NFTs in both physical and virtual fashion.
May
In the wake of market turmoil, the team shared this important message about the future of Chromia, "Stay The Course"

Triple O Games joined the Chromia Ecosystem with the game Battle Derby
June
ChromaWay announced a strategic investment into VRM, a metaverse and NFT company focusing on the world of sports

ChromaWay sent a delegation to NFT.NYC, the world's largest NFT conference. Attendees included ChromaWay's Anastasia Plane and Todd Miller, My Neighbor Alice's Riccardo Sibani and Lenny Pettersson, and Mines of Dalarnia's Keith McCollough. Check out some highlights here and here.
July
We shared this rundown of 12 projects that participated in our 2022 Demo Day Incubation Program
September
September saw various members from Chromia and ChromaWay make appearances at a number of live and virtual events, including Tokyo Game Show 2022, The E-CREDA Webinar, Messari Mainnet 2022, and All That Matters Asia

Corite launched their native $CO token
October
ChromaWay announces a multi-year partnership deal with worldwide fashion and lifestyle brand ELLE

The Chromia Innovation Lab Incubation Program 2023 was announced
November
ChromaWay was named to Deloitte Sweden's Technology Fast 50 for the third consecutive year

ChromaWay's RBN advanced to the Phase 2B of the EU PCP, the final and most rigorous phase of the program
December
Our recent article discusses the growing concern over the centralization of metadata and images used in the design of NFTs, while discussing how Chromia will address these issues with its Originals NFT standard
Coming up in January…
With a change in update format and some important development milestones around the corner, we will be hitting the ground running in 2023. Be sure to subscribe to our social media channels!
Happy Holidays Chromians! See you in the New Year!

About Chromia
Modern society runs on data and every online service you're using is built upon underlying databases - ranging from your online bank to music streaming and gaming. Chromia is a relational blockchain - a combination of a relational database and a blockchain - making it easy to develop user-friendly decentralized apps for almost any industry, including DeFi, NFTs, gaming, and more.
Website | Twitter | Telegram | Facebook | Instagram | Youtube